The Rowena Plateau is truly a sight to see in the springtime. The normally dry scrub oak savanna bursts forth with color between late March to early May. Thousands of blooming wildflowers carpet the hillsides as far as the eye can see. From the showy yellow Balsam Root to the varying shades of blue or yellow Lupine to the brilliant clusters of red or orange Indian Paintbrush. We will stop first for a sack lunch at a local vineyard with a little wine sampling. We will continue on to the wildflowers, and later watch ospreys and hawks soaring high above while enjoying a snack at the Rowena viewpoint that overlooks the eastern end of the Columbia River Gorge.
TOUR DETAILS
10:00am

5:00pm

We will pick up your group downtown or at another place to be determined

$85.00 per person.

Water and snacks

Since some people might want to just share a flight, we do not include the tasting fees.

We recommend you bring a sack lunch or we can supply a box lunch for a extra fee.

We can also make the tour alcohol-free and go right into the wildflowers
TOUR ITINERARY
HISTORIC COLUMBIA RIVER GORGE SCENIC HIGHWAY
Travel I-84 to Mosier at the east end of the Historic Columbia River Highway to drive up into the wildflowers country.
MEMALOOSE ISLAND VIEWPOINT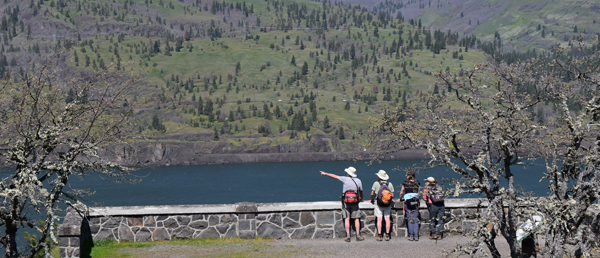 Before hiking out into the wildflowers of the Rowena Plateau, stop at the Memaloose Island Overlook. Memaloose comes from Chinookan menalust, meaning "to die" or Iiahee meaning "Land of the Dead". Memaloose Island was one of the larger islands used by the native peoples to bury their dead.
ROWENA OVERLOOK
Rowena Overlook is a place to walk out among the wildflowers. There may be a chance to see ospreys or hawks playing in the wind thermals created by the nearby cliffs. Bring a good camera because this is a photographer's paradise.
ROWENA LOOP DRIVE
After having a wonderful time in among the wildflowers, descend down the winding old highway (often used for national car commercials) to I-84 and back to Portland.
WINERIES
We will choose one winery to visit before heading into the wildflowers depending on your group size the tasting rooms availability.

ANALEMMA Analemma Wines was built upon the opportunity to lease one of the oldest vineyards in the Pacific Northwest: The Atavus Vineyard. With just twelve acres of history and a vision, the two set out to breathe life back into the old vines, ferment rare fruit and bottle a truly unique vinous expression of the Columbia Gorge.

GARNIER VINEYARDS On the old highway, we will stop at Garnier Vineyards for a box lunch and enjoy a flight or glass of wine. The vineyard, sitting on the edge of a bluff overlooking the vineyard, offers a breathtaking view of the dry end of Columbia River Gorge and is a nice way to kick off a day of exploration.