The beautiful Hood River Valley is world famous for its apple, pear, and cherry orchards.  Thirty years ago, pioneering winemakers also realized that the soils and weather were ideal for growing wine grapes. So now, nestled in among the orchards and in view of Mt Hood, are small family-run boutique wineries that offer some award winning, hand-pressed wines.
To get the full experience, we recommend selecting  3 wineries you would like to visit and we will do the rest. Anymore then that would diminish your tasting experience. Also check with me about other wineries not listed on this page.
TOUR DETAILS
9:45am

6:00ish

For the time being, all pick ups will need to arranged outside the Portland City limits until I get all my licensing taken care of.

Base Fee: $500 (6 tickets), then $90 per person after that.
(All wine and sightseeing tours are based on $90 per persons except Coastal Tours.)

Water and snacks.

Since wine tasting room fees vary and some people might want to just share a flight, we do not include the tasting fees.

We recommend bringing your own lunch. Or we can stop at a local restaurant (not included). The wineries also may have food offering and/or charcuterie plate you can purchase.

The tour includes 3 of the wineries listed below depending on their availability. If you have a preference for one or more over the others, please let us know and we will see what we can arrange.
NOT WHAT YOU ARE LOOKING FOR?
WINERIES
CATHEDRAL RIDGE WINERY
A family-owned boutique winery with an exceptional view of snow-capped Mt Adams. They offer a large selection of award-winning wines, all made on site.
MARCHESI VINEYARDS & WINERY
Taste a little bit of Italy. Marchesi Vineyards & Winery is a small boutique vineyard that specializes in producing wine reminiscent of the old country.
PHELPS CREEK VINEYARDS
Located on beautiful Hood River Golf Course, their wine tasting room features wine produced from their nearby estate-grown grapes.
HOOD CREST WINERY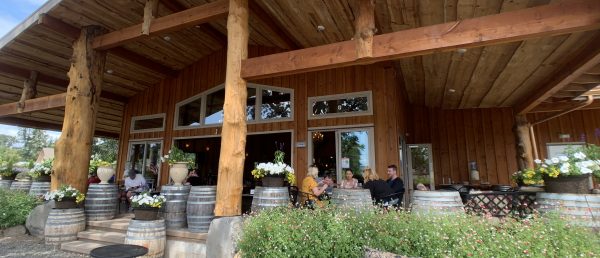 Hood Crest Winery focuses on big red varietals such as Merlot, Malbec, Sangiovese, Cabernet Sauvignon, Grenache, Pinot noir and red blends, as well as Chardonnay, Gewurztraminer and Riesling.
VIENTO WINERY
The name Viento is Spanish for "wind", to reflect the constant vibrancy of the wind in the Columbia River Gorge. They carefully craft all of their wines to emphasize balance, fruit character and the vineyard. The results are wines of balance, softness and wonderful flavors.
Check out what our clients say about this tour
MNKpdx | November 2019:

We had a great experience with The Vintage Tour Bus! Sean was great and easy to work with. Very helpful with planning the day and had great winery recommendations. The bus was AMAZING. We will definitely do it again!

Eve A | July 2018:

Our group had such a great time using Sean and his bus! He was friendly, funny, and very informative as we drove through Oregon and he told us some history and geology about the area. We would definitely recommend Sean and his bus to anyone!

kimcimm | September 2019:

Sean was a delight. We all learned a little about Oregon that we didn't know before the trip. We visited a couple wineries in Hood River. The bus is beautiful and we couldn't be more happy with the experience!